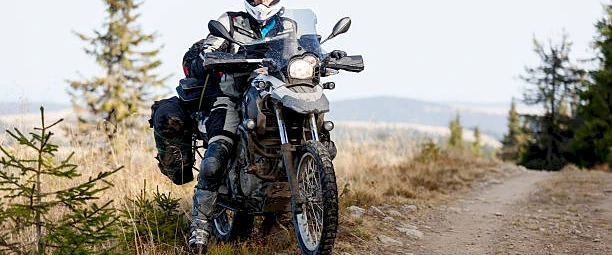 Going Riding!
Lessons deepen while having fun.
Since I was a kid, I have been on the water; A LOT, but never close to being enough. From canoes with human power, to small wooden fishing boats with 1.5hp engines all the way to some of the bigger stuff. Short of mega yachts, if it floats, I can handle it and make sure that all aboard not only have a great time but can have the confidence they'll be safe on the water.
For decades I have wanted to buy a motorcycle. Like many, I had friends with dirt bikes when I was young, but never took part in this sport or pastime. Finally, after almost 30 years of saying "next year" I went ahead and got my first bike. After a few weeks and almost 2,000 miles I have learned the following to be true:
1 – I will be a novice for quite some time. Yes – It's just riding a bike, but when you get started at this age you have a sense of humility that comes from sore muscles, joints, and injuries of the past. If I had done this 25 years ago, my priorities would have been different and I'm sure I wouldn't have been operating the vehicle so conservatively. There is a lot to learn and being open to it I believe will make me a better rider in the long run, increasing the opportunities for fun.
2 – There is a sea of products and accessories out there that I have already been spending too much time on my phone looking at. I had to quickly prioritize the needs and separate them from the wants.
Helmet – check
Gloves – check
Boots – check
Now I can ride……. However, I am like any other consumer or wanna-be enthusiast. What else can I add, modify, or change to have even more fun? This list is already too long to provide here. Suffice it to say, it's a ton of stuff I want (need in my mind) and the process of looking, comparing, talking to other folks is part of the fun.
Since I have spent almost all my professional life in the marine industry, everything relative to that product is somewhat second nature and with all of the boats we've had over the years, I already knew what I wanted, got it set up and didn't give it a second thought.
This new toy, while like owning a boat, is different in so many ways. It's ALL new and the learning process is a ton of fun. Luckily, I have several friends that are riders and all the Powersports / Gearheads I work with at V20 are always open to a discussion or providing some advice on what I'm wondering about.
My dealer has also been great and been a friendly reminder that the most important connection we have to the consumer is the dealer. I've always known this, and my dad drilled this into my head for years. He spent his career at John Deere, and we had many discussions about the importance of a dealer and what they bring to the table. I've always known this and ultimately understood that the dealer is THE most important part of the consumer experience.
I have to say that the past few month have been incredible and I'm enjoying the hell out of this bike. Getting prepared to do my next Adventure Ride this weekend has had me preoccupied with the planning and anticipation of not just this ride, but hopefully many more to come.
No matter what part of the industry you come from within Marine, Powersports, RV, OPE, or Firearms – all industries we serve it is easy for most of us to say we're passionate about these industries. And most of us are – otherwise we would probably be doing something else.
Over the years I've become equally passionate about bringing new people into these past times or sports. It's an incredible experience being one of these newbies that allows me to see things from that perspective.
Equal to the time spent thinking about my next ride this weekend, the wheels have been turning regarding what we do Monday through Friday. We're so lucky to be part of these great industries; even if we need to be reminded of it from time to time. Many lessons learned this spring and summer which can translate into an even better V20.